Also known as "predictive coding," TAR can significantly reduce the time and cost of document review services in litigation, investigations and other document-intensive matters.
As the reviewer codes documents, the system looks at the coding decisions of the reviewer and attempts to replicate this going forward.
TAR in the context of a live case: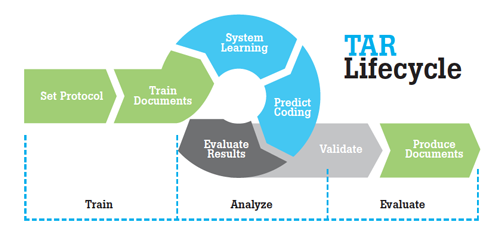 TAR is now so widely used in e-discovery and so widely accepted in the US, that that one judge labelled it "black letter law", giving it the same level of legal credibility as other long-standing legal doctrines.
Recent studies have it sought to determine whether there was a benefit to adopting a human review or whether computer systems could be relied on to produce comparable results.
The results were very interesting and further upset conventional wisdom by concluding that on every measure, the performance of the two computer systems was at least as accurate as that of human re-review.
In 2010 there was a publication of a study comparing the results of computer-assisted review to manual review. The study, Document Categorization in Legal Electronic Discovery: Computer Classification vs. Manual Review, was conducted by Kershaw along with Herbert L. Roitblat and Patrick Oot, who were all at the time affiliated with the Electronic Discovery Institute. The study concluded that; "Overall, the myth that exhaustive manual review is the most effective—and therefore the most defensible—approach to document review is strongly refuted," they wrote in the Richmond Journal of Law and Technology. "Technology-assisted review can yield more accurate results than exhaustive manual review, with much lower effort."
Their study found that TAR produced a 50-fold savings in cost over manual review.
For lawyers and clients facing increasing e-discovery costs, this was significant. It provided evidence that TAR could be both more effective than manual review and also significantly cheaper. But even with this evidence, many lawyers still saw one big obstacle to using TAR: the uncertainty of its acceptability to the courts.
This was significantly lowered in 2012, when Judge Peck issued his opinion endorsing the use of TAR in a case pending before him. In Da Silva Moore v. Publicis Groupe, it was the first judicial opinion anywhere to endorse the use of TAR. "Computer-assisted review appears to be better than the available alternatives, and thus should be used in appropriate cases," he wrote, opening the door to a sea of change in how lawyers conduct e-discovery.
Furthermore, In 2013, two e-discovery researchers, Maura R. Grossman, counsel at Wachtell, Lipton, Rosen & Katz, and Gordon V. Cormack, co-director of the Information Retrieval Group at the University of Waterloo, concluded that TAR was not only more effective than human review at finding relevant documents, but also much cheaper.
The second major milestone in the courts came just two months later with the case Global Aerospace, Inc. v. Landow Aviation. In Da Silva Moore, the court approved TAR based on the parties' agreement. Global Aerospace was the first case to approve the use of TAR over the opponent's objection. It was also the first state court case to approve the use of TAR.
There have also been a key judgement this year in the UK courts regarding the approval of TAR as a reviewing tool. In the case of Pyrrho Investments Ltd v MWB Property Ltd & Ors [2016] With Master Matthews presiding, Berwin Leighton Paisner ("BLP") won the first contested application to use Predictive Coding as part of a substantial document review exercise. This order is a significant acknowledgement of the value and acceptance of this technology and marked a long anticipated judicial affirmation for use of this method of reviewing documents in the UK legal market (by contrast with the US, where the technology has been in active use for some time).
BLP, representing the respondent, asserted that the costs of the "traditional" approach using paralegals to manually review the relevant data, would be excessive and that superior results could be achieved at a more proportionate cost using predictive coding technology.
On 17 May 2016 the High Court ordered, for the first time, the use of predictive coding in the face of disagreement between the parties as to its suitability.
The future of TAR
There was a further factor limiting TAR's widespread adoption, which has presented an interesting challenge; the limits of the technology itself.
While first-generation TAR system (TAR 1.0) presented a revolutionary advance over manual review and keyword searching, they had shortcomings that limited their usefulness in many real-world contexts.
For example, TAR 1.0 required a senior lawyer be involved in training the system. The senior lawyer would have to review and code hundreds or thousands of random documents until the system understands the data. Given that the goal of TAR was to reduce costs, requiring the involvement of a senior lawyer was not a cost-effective solution.
These shortcomings were overcome with the development of a new generation of TAR system: TAR 2.0 systems. Now gaining wide popularity, these newer systems no longer require senior lawyers for training. Instead, through a process known as "continuous active learning," the review team can simply begin reviewing documents and the system will continuously learn from their coding choices and tailor its decisions to mirror this behaviour and therefore, increase efficiency whilst working in line with the clients' objectives.
Crucially, because the system is continually refreshing its rankings, new documents can be added at any time. This reflects litigation in the real world, where discovery documents typically arrive on a rolling basis.
TAR at Altlaw
The adoption of TAR in legal review can be a more efficient, less costly, and a more proactive process that aids the legal team in managing and reviewing the case.
Recent studies and the increased willingness to embrace this technology has replaced the long held scepticism held by lawyers and their clients that data produced using these tools cannot be viewed as having the same reliability as data that has been extracted using manual review.
The early objection to TAR, that it was not as accurate as human review has now been addressed and TAR has been approved by the UK courts as a reliable a means of reviewing documents; Altlaw predicts that the use of TAR will only increase and we are at the forefront of offering TAR to our clients, enabling them to increase consistency, and speed of review whilst also cutting costs.
With the use of TAR, our experienced team will deliver our clients a successful result on time, on budget, every time.