Our pricing
Learn exactly where your money goes
Here at Altlaw, we know how frustrating it is to research pricing for your eDiscovery project only to find either no pricing available or an 'it depends' at the end of the tunnel.
This is not how we want your relationship with us to begin, and though, yes, the cost of our services does depend on each project's specific requirements, no, we aren't going to hide our pricing model from you.
Read on to find out exactly what contributes to your costs, how we calculate them and what to expect when receiving pricing from us.
We want you to be as informed as possible so you can be sure you have made the right purchasing decision and start your project in confidence.
Contents
Check out our on-page pricing calculator!

Our pricing guides

What are you paying for?

eDiscovery and managed review

Forensic collection

Hardcopy and scanning

FAQ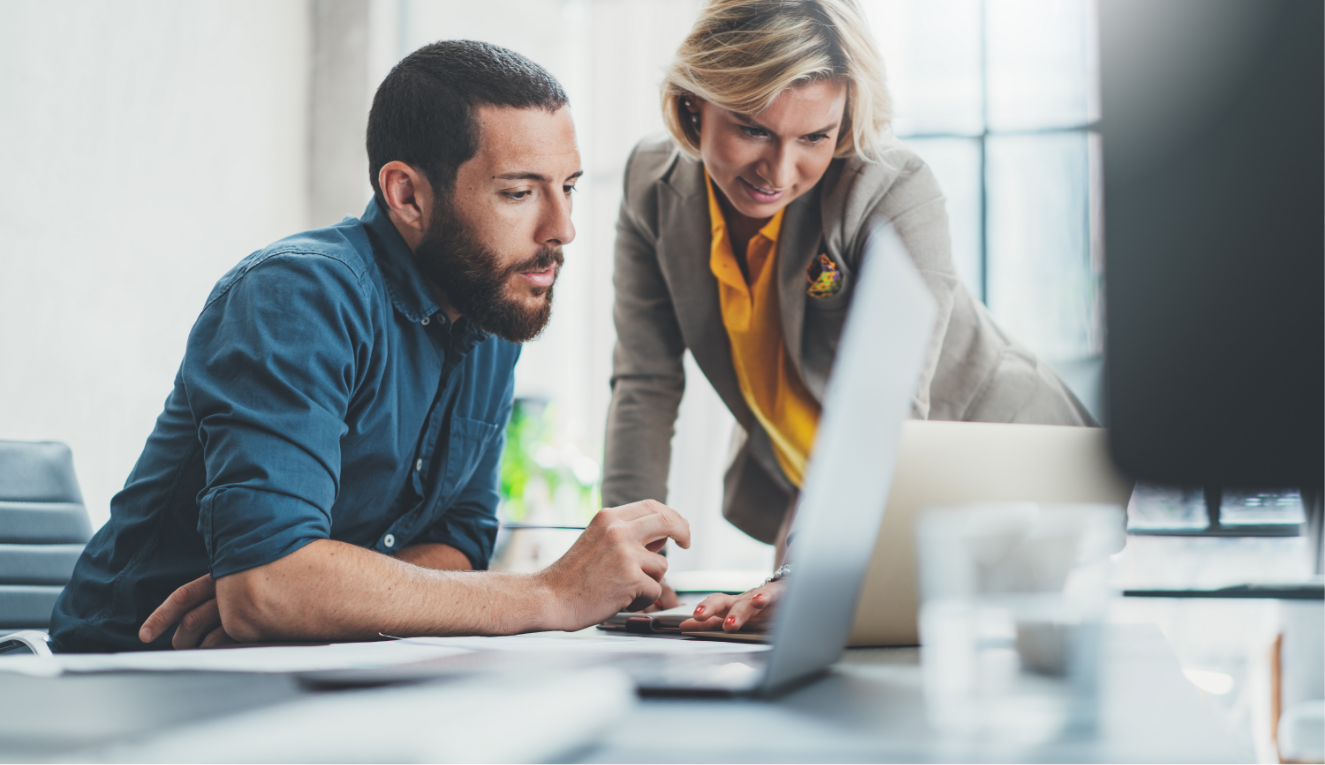 Check out our on-page pricing calculator!
We strive to be as open and honest about our pricing as possible. As such we have developed an on-page calculator that provides an instant cost estimate for your upcoming project.
Simply toggle the sliders to input your case information and receive an indicative price range for your project. All calculations are based on 4 hours of project support as standard, but should you change the level of support, this will also be taken into account.
The initial section of the calculator gives a rough estimate based on the most basic pieces of information needed, however, if you would prefer a more detailed quote, simply fill out the second half of the calculator to provide additional data and receive a more tailored quote straight from one of our Altlaw experts.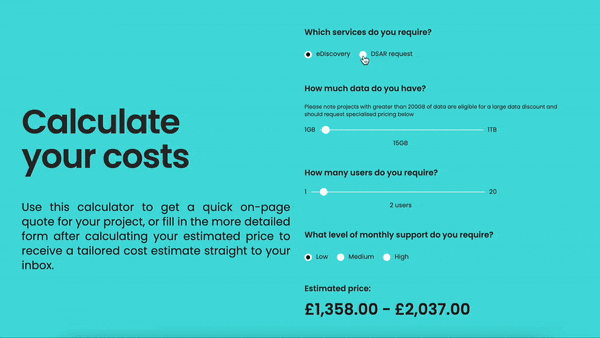 Pricing guides
As mentioned above, we want you to start your journey with us on the best possible terms. This does not mean making you read a massive page of information before you can reach our pricing guides... the bits you want, right?
We believe in transparent pricing, which is why you can find our pricing blog posts and guides available on several pages throughout our website, this being one of them.
You can download our pricing guides below.
What are you paying for?
As an all-encompassing eDiscovery provider, we provide a variety of services and as such there are an array of different factors that contribute to the cost of your project. Here we have taken the time to break down exactly what you are paying for, and the costs associated with each service.
For all eDiscovery and review projects, your team is provided with access to the latest in legal technology.
Whether that be access to the platforms themselves or access to the benefits that can be leveraged from more niche software by our team of project managers, Altlaw clients work with the best the industry has to offer.
Industry-leading platforms such as RelativityOne, the platform in which we host, process and review your data, charge more for their services, this is therefore reflected in our pricing.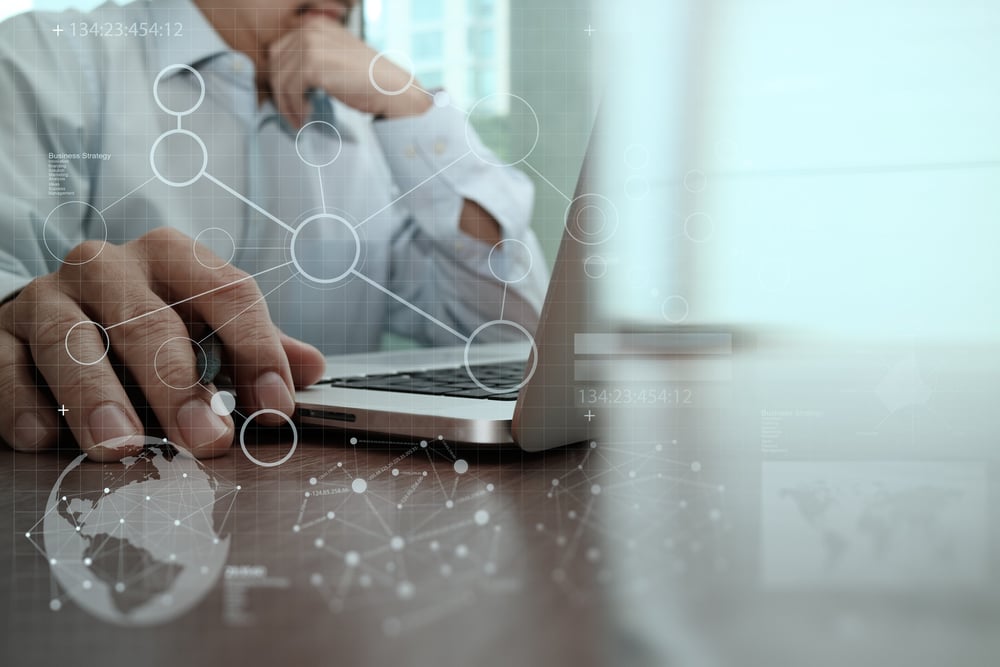 eDiscovery and managed review:
The costs associated with a standard eDiscovery project can be broken down into 5 categories: processing, project support, ECA hosting, review hosting and users.
For processing, ECA hosting and review hosting, size matters. The amount of data that needs to be handled, assessed and reviewed has a direct impact on the cost of your project. This is why we do our best in the ECA (Early Case Assessment) stage to reduce the amount of data hosted within your RelativityOne workspace to that which is most likely to be relevant. This not only saves you time when it comes to reviewing, but it also saves you money.
Project support is where our team really shines. We make it our mission to hire industry experts with a passion for problem-solving and a positive, friendly attitude. As an Altlaw client, you will work closely with your project manager, and they will be responsible for guiding and supporting you through your case. As such, a large portion of the cost of your project is designated towards compensating them fairly for their time and expertise. We pride ourselves on being a happy and fair workplace where all employees feel valued. Making sure our staff are well paid for their efforts is a huge part of this.
The number of users you wish to have on a case will also affect the cost of review, though this can be in both a positive and negative sense. Many reviewers will inevitably lead to a high monthly user cost; however, it may mean that you get your review finished a month or two quicker than originally projected. This would end up saving you time and money overall but at a higher initial cost. Similarly, you could choose very few reviewers and save yourself money on that front, but this may lead to your review taking longer than expected. We would advise speaking to your project manager during your Early Case Assessment to gauge how much data you are likely to have to review and how many reviewers they would recommend.
For a speedy quote on your next project check out our eDiscovery calculator and have a cost in seconds!
When choosing managed review, there is the additional cost of Altlaw vetting and hiring reviewers on your behalf. As with our permanent staff, it is important to us that our reviewers are happy and well compensated while working with us. Reviewers will be briefed on your case and will be overseen by our dedicated review managers, saving you the time and effort that would be spent insourcing and training your own reviewers. If you think a managed review is the best option for your case, please speak to your project manager about how we can go about organising this for you.
Forensic Collection:
Forensically collecting data is the process of lifting data from a device (data source) without altering it in any way. This is usually far more complicated than it appears and often requires an IT specialist to complete the collection process.
When it comes to collection by Altlaw, we charge based on three different instances...
The devices for collection are brought to our offices and the data is collected by one of our team. This is the cheapest option but requires traveling on your part.

The data is collected from its host device remotely, in which case we charge per webmail account being collected.

We come on-site and collect from your devices directly. This is the most expensive option but is an excellent solution for very sensitive cases.
There is always the option to self-collect should you wish to save money, though this is often risky unless you have a very experienced member of your IT department able to collect forensically. At Altlaw we understand that budget constraints play a large part in the success of a project, and we want to support you no matter which avenue you choose. We have therefore produced a guide on using a piece of self-collection software called FTK Imager that you can access below.
Hardcopy and scanning:
Our hardcopy production and scanning capabilities mean that we can oversee your project from collection right through production without you ever having to source other providers. Of all our service areas, hardcopy and scanning has the most straightforward pricing system, as you might expect. The more you want scanning/copying and the bigger the size you want it in, the more the cost of your project will be.
Using a state-of-the-art, fully networked system of high-volume machines, we're able to handle all manner of projects, from intricate glasswork-style jobs to extremely high-volume caseloads with tight deadlines. In cases such as these where data manipulation and specific client requests require a more involved process, you can expect to pay a little more for the additional time and expertise required to complete your project. The full price breakdowns can, of course, be found in our free pricing guide, and our dedicated hardcopy staff will always be happy to discuss our prices with you.
What are my upfront costs?
The upfront costs for your eDiscovery project are made up of the processing, project support (billed at a minimum of 4 hours for a 'low' input set-up) and collection costs if a collection is needed. The processing costs are directly related to the amount of data you wish to be processed.
Does it cost more to use Active Learning?
No, it doesn't - all costs are based on the amount of data and support required, not the way in which we support you.
Can I get a cost estimate before reaching out to you?
Of course! We have our pricing guides that lay out all our individual costs in detail which you can download from the top of this page, and we have our eDiscovery pricing calculator that can give you a quick estimate for the cost of your project in minutes.
Find more great content on our Blog!
Check out our blog to be kept up to date with all things eDiscovery and Information Governance. Weekly updates ensure you're always in the loop.